I carried out my field work in Cooloola National Park, Queensland, Australia (26o05'S, 153o02'E). This park is approximated 3 hours drive north of Brisbane and is managed by the Queensland Department of Wildlife and Heritage. It encompassed over 56,000 ha of habitat and is one of the largest pristine and protected watersheds on the eastern coast of Australia.
Continent of Australia showing approximate location of Cooloola National Park.

Cooloola Rainforests
Rainforests in Cooloola support a limited diversity of tree species. There are only about 40 common species with another 25 uncommon species. Rainforests are patchily distributed, in part based on the proximity of the water table to the surface, and in part due to the anthropogenic fire history of any particular area.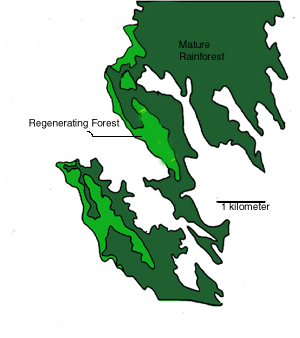 This map shows the approximate distribution of mature rainforest and areas that were burned in a 1951 wildfire and are now regenerating as rainforest. Areas in white are a mix of open Eucalypt, Banksia, and Casuarina woodlands..
Data Collection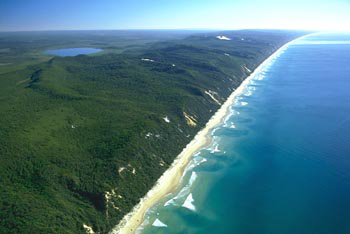 Cooloola consists of an enormous series of sand dunes blown up and deposited from the south over many 100,000 years. There is a typical pattern going from windswept coastal forest on the seaward side of the dunes, to closed rain forest near the landward edge of dune systems grading into open woodland and heathland along the plains of the Noosa River.
I carried out field work between March 1997 and January 2000 and was present in the park during all months. I collected data on seed dispersal by three bird species: the Rose-crowned Fruit-dove (Ptilinopus regina), Wompoo Fruit-dove (Ptilinopus magnificus), and Green Catbird (Aileurodes crassirostris). I also monitored flowering and fruiting phenology of 30 species of rainforest tree and seed predation of 6 species of large-seeded tree.
| | |
| --- | --- |
| Family | Species |
| Anacardaceae | Euroschinus falcata |
| Araliaceae | Polyscias elegans |
| Araucariaceae | Agathis robusta |
| Arecaceae | Archontophoenix cunninghamiana |
| Burseraceae | Canarium australasicum |
| Cunoniaceae | Schizomeria ovata |
| Ebenaceae | Diospryos fasciculosa |
| Ebenaceae | Diospryos pentamera |
| Elaeocarpaceae | Elaeocarpus eumundi |
| Lauraceae | Beilschmeida obtusifolia |
| Lauraceae | Beilschmeida elliptica |
| Lauraceae | Cryptocarya macdonaldii |
| Lauraceae | Cryptocarya glaucescens |
| Lauraceae | Endiandra discolor |
| Lauraceae | Endiandra sieberi |
| Lauraceae | Litsea leefeana |
| Mimosaceae | Archidendron lovellae |
| Moraceae | Ficus watkinsiana |
| Myrtaceae | Acmena hemilampra |
| Myrtaceae | Backhousia myrtifolia |
| Myrtaceae | Lophostemon confertus |
| Myrtaceae | Rhodamnia acuminata |
| Myrtaceae | Syzygium leuhemanii |
| Myrtaceae | Syzygium oleosum |
| Podocarpaceae | Podocarpus elatus |
| Rutaceae | Achronychia imperforata |
| Rutaceae | Flindersia australis |
| Rutaceae | Halfordia kendack |
| Sapindaceae | Mischocarpus pyriformis |
| Sapindaceae | Sarcopteryx stipata |
| Sapotaceae | Planchonella laurifolia |
| Sapotaceae | Planchonella chartacea |